English Student Testimonials
"My classes with English and Culture have been awesome. I have been taking the classes for almost two months, twice a week and I am really happy about my improvement. Now I feel more comfortable and secure when speaking English and more fluent, too.
One great thing about the class is that I could fix my goals with my teacher so she prepared the lessons according to that. It was a completely customized program. I thank my teacher for all her patience and extraordinary enjoyment of teaching English. I fully recommend English and Culture."  View Elkin's success story
Elkin, Colombia (Premium Program)
"Hi this is Joan from Barcelona. I just wanted to say that I love the Speakative program. I have been doing it for 6 months more or less and well, I think it's totally worth it. I love my conversation partner. She is a nice lady and I always have a whale of a time talking to her because she corrects me on the fly so I can realize my mistakes while I am talking so that's a nice thing.
Then there are the materials, the modules that are full of real English expressions and I love that because those are not ESL expressions. Those are real English, native expressions. I listen to plenty of podcasts about other stuff like movies, TV shows, Wordpress, software, Internet and when I am listening to those podcasts, they use the same expressions.
When I hear something like "rule of thumb" or "bring to the table" or expressions like those that I learned through the modules well that is nice because I get the meaning of that because I studied that and that's nice and it reinforces my faith in the program because I see that it's worth it, that what I am studying or what I am learning I would be able to use it in a real life situation.
If you want to learn real English, that's totally worth it. Speakative program forever. I like it."
"I really appreciated all my English classes with English and Culture. I moved from Italy and suddenly I found myself working in an English environment that I was not going to understand 100%.
Time was an issue. Being speedy in ramping up my English was one of my main goals. The school helped me create a tailored course where the teacher worked with me in the office during lunch time or any spare time that I could find in my busy days.
Overall, from a professional and personal point of view, I strongly recommend English and Culture to any student who wants tailored support and dedicated attention."
 Natalia, Italy (Premium Program)
Hi my name is Ricardo. I am from Brazil and I'd like to share with you my experience using English conversation partners program.
This method for me is the best way for me to improve my English, not only the best way but the fastest way.
So if you make a comparison between this method and conventional classes it's very clear that this method is better because you are only with your partner, you are not in a group. You have one hour speaking, non-stop while if you are in a group, probably you don't have enough time to speak. So the system is based on key words, phrasal verbs, key expressions.
After studying the expressions and words, you should use them in the conversation. All exercises are very well written and when you have questions your partner will clarify for you. I feel really satisfied and happy using this method because as I said, it's the fastest way I found to learn.
I can keep my knowledge with this method because I enrich my vocabulary with new words, new expressions, and new phrasal verbs also.
My partner is Carol. She is really attentive, really kind, and she can correct my mistakes all of the time because as soon as I make mistakes she corrects me. This is really nice. Personally, for it's very important. So this is my opinion and you should try because I guarantee it's the fast way so enjoy thank you.
"We thank our lucky stars that we met Lindsay! She is a very nice and professional English tutor and her materials and method are fantastic.
Every class is an amazing occasion to learn a lot about grammar, pronunciation, idioms and American habits and culture. The podcasts and the modules were simply great and, using them as homework and conversation topics, we had as fun as Lindsay and Gabby during their conversations.
Her work is a very good combination of talent and pledge. She is able to teach in a simply way just what we needed, and very important she always did it smiling. She gained our esteem and respect forever. We strongly suggest to have English class with Lindsay."
Francesco and Martina, Italy (Premium Program)
"Hi I am Bernd from Germany. About Speakative compared with other language programs- Speakative is a real conversation program and that's important for me because there are subjects I can talk about. I can learn new vocabulary for that context and that's very important and the most important thing is that Speakative is a real conversation program with a real conversation partner, a native speaker and that's the most important thing for me. 
There is always room for improvement for me but from session to session it's easier for me to talk, to speak without translating from my mother language into American English and that's the most important improvement, to be more flexible and to not think so much about mistakes and grammar.
About my conversation partner, Carol is the best conversation partner I can have because she's so open and it's not only about the program, not only about the subject, there's a lot of conversation about situations and about life and it's easy to talk to her and it's good for me to have somebody who can correct me immediately when I make a mistake but that's not the only thing - Carol has a good mood and she has a sense of humor."
"Margaret is very responsible, very friendly and personable and committed to doing a good job. Conversations with her were very enriching. She corrected my pronunciation and helped me find the best way to express an idea. Ina is also very good! I identified myself with her intellectually and it made all the difference in the dynamics of classes. I think she was able to make our classes, which were quite extensive, dynamic and interesting. She quickly found my points to be worked out and I think I could improve them with her help."
Rachel, Brazil (Speakative Conversation and Premium Program)
"One of my goals when I came to Boston was to communicate smoothly and naturally and to immerse myself in English. I am not the person who talks very much so attending a general English class at any English school is not good for me. I decided to take English lessons with Lindsay at English and Culture. She is a good tutor. I did not feel like I was studying when I came to class. I felt like I met a friend and had conversation with her. She didn't only teach me English lessons. She also gave me some tips on living in the U.S.A. With her teaching experience, she knew how to teach me and make me feel comfortable with English. That's why I gradually improved. Lastly, I would like to thank you, Lindsay, for your help and really thank you for your flexibility as I did postpone classes many times but you could change to the dates and times that fit for me. I hope we work together again."
May, Thailand (Premium Program)
"I could say that to take classes with Lindsay in English and Culture have been the best decision that I've ever made about my English. 
Before my course in English and Culture, I was really stuck with English. I had the urgency to learn, but I felt a lot of insecurity and a feeling of desperation with English. I was very bored and discouraged. I didn't know what to do to improve, what method I had to follow to progress. And I really was thinking about If I didn't have the capacity to be fluent in English. 
Lindsay has given me with her classes a feeling of complete security that it's possible to progress and to learn good English following the correct steps, practicing and making the necessary work. She uses a very pedagogical methodology in a really smart and effective way. From the beginning of our classes, Lindsay knew where I was and where I could arrive. She helped me to find a very concrete short time goal, realistic but interesting for me, and she has known how to lead me and to help me to achieve it. All this things have changed my perspective about English. In a very short time I have got much more security with English. Now I feel myself much more comfortable, I know what I need to do for progressing, and I know that it's possible to be fluent in English. I'm motivated for continue learning. There are really no money to pay for all this.   
I only could say good things about Lindsay's classes in English and Culture. Lindsay is much more than a really good English teacher, she is a Super Professional Language Coach and Trainer. She has the ability to encouraged people and has encouraged me from the beginning until the end of the course. She knows how to simplify problems and to makes easy all things, going to the root of the problems directly. Lindsay is really consistent, optimistic, enthusiastic, kind, patient... She is very smart, well educated, funny, respectful, generous... She is practical, ordered, determined, coherent, persistent and really brilliant. 
Lindsay has always take consideration about my own interest, looking for dealing our classes to my particular preferences and passions. She has always prepared specific lessons for me. She has looked for interesting topics to converse about. She has every day prepared and sent me specific Homework that we have worked about in our classes later. She has analyzed my mainly difficulties and weak points for working about them to overcome it. She has strengthened my own vocabulary and personal way to express, correcting the mistakes that I made. She has motivated me all the time, she has given me a lot of ideas to improve, and she has shown me that learning English is only a process that I can deal and control.
We have worked in conversation, listening, reading, pronunciation, vocabulary, writing, verb tenses and irregular verbs, and so on... but not through the direct study of grammatical rules, but in an indirect way through an effective practicing. All days without exception I've finished my class truely happy. We have put especial attention in a constant and effective Homework too. And I've progressed in all this things, achieving my short time goal that was to be able to follow an MIT Open course understanding at least a 75% of their content. 
But the most important thing for me is that I feel now really most secure and self reliant with English. I have lost some deep and strong fears and difficulties that I had with English and that were blocking seriously my progress. The only thing that I'm worry about is don't have found English and Culture before."   
Alfonso, Spain (Premium Program)
"Lindsay is a great tutor, genuinely dedicated to help you to achieve your personal goals and to improve your English skills. From her extensive experience of teaching ESL to adults from around the world, Lindsay knows the common issues due to your native language and she quickly identified specific patterns of mistakes.
The English and Culture approach focuses on your individual and precise needs, bringing a valuable cultural insight to customized exercises, and tailor- made discussions and role plays. I strongly recommend having English private sessions with Lindsay."
Phoumin, France (Premium Program)
"I have always wanted to improve my English skills and feel comfortable to speak English. My English teacher Lindsay, English adventurer, is the right person for me to step forward. In my private lessons, I've learned lots of useful expressions for real conversation with native speakers and had chances to understand cultural differences as well.
We discussed happenings and events in the news and talked about daily life. She always listened attentively and corrected my mistakes or suggested natural expressions.
My lessons were definitely more than teaching and learning English. She is a professional and passionate teacher who always makes effort to give ways to get close to English.
I appreciate all of her efforts."
Kyungju, South Korea (Speakative Conversation and Premium Program)
"The program is very good, I have gained confidence and Carol is doing a good job helping me with new expressions, pronunciation and always keeping the conversation going on."
"I was in Boston for one month to study English at a language school but I still wanted to find a private teacher to improve my English. I found Lindsay on the web and I decided to meet with her. I felt like she was the right teacher for me because of her outgoing personality. I decided to take 20 classes with her. I found her to be a wonderful teacher. I like to study English with Lindsay but one month was too short. Now I think maybe we can use Skype to continue our classes. I am hoping she will teach me again when I go back to Boston. Thanks a million, Lindsay!"
Grace, China (Premium Program)
"I took private English lessons with Lindsay at English and Culture two times a week in January and February of 2012 in Boston. I liked this teacher from the first meeting. I found her professional and gentle. To be honest, I liked private English lessons for the first time in my life. At the same time, Lindsay's lessons were very useful, funny and cognitive. I was not afraid to have conversation with her because she corrected my mistakes in grammar and pronunciation very carefully and gently. She found interesting texts for every lesson and we talked for a long time. That was very valuable for me because I needed a good conversational practice. I would like to continue private lessons with Lindsay next time I come back to Boston."
Olga, Russia (Premium Program)
"During our conversation practice, Margaret was very patient, dynamic, interesting. She kept me motivated to speak all the time and she took the time to correct my mistakes."
"I would like to tell you too that we have noticed that our fluency is improving faster then we hoped! Your system works a lot! Carol is very kind and polite, attentive, and patient. All of my questions were answered clearly."
"I'm back in Italy to celebrate Christmas with my family and I would like to thank you for your support, I really enjoyed Jane's lessons in NYC. Congratulations for your efforts, I will definitely recommend you!"
Claudia, Italy (Premium Program)
"I really enjoyed the lessons with Lindsay at English and Culture. The lessons were interesting and useful. Lindsay taught me English by different ways such as games, videos, newspapers, songs, etc. I think I really improved for my listening, speaking, and writing and I feel self-confident now to speak English. Anyways, I strongly recommend this class."
Iris, China (Premium Program)
"My vocabulary is limited so when I talk to people, I always use simple words again and again. It blocks me from representing my thoughts in a more accurate and fluent way.
With the scenario modules provided by this program, I am able to learn how to discuss a topic using some american style idioms and expressions. Besides, I am able to practice these words with my native speaker partner (BTW. Meg is a wonderful person to talk to).
Not only my vocabulary is widened, I have become more confident to talk about the same topic with others."
"I have already stayed for five months in New York to learn English conversation. But I wanted to improve my skills much more by the time I leave for Japan, so I was looking for someone who could teach me much more English. I had only three weeks and was very rushed but I asked Lindsay about my situation by email, she was sympathetic to my request, so I decided to take the lessons with English and Culture. The lessons were very useful and interesting so I was never bored and time went by so quickly. Lindsay could pull out my ability and I enjoyed learning English. Anyway, I would like to continue learning with English and Culture when I go back to Japan."
Junko, Japan (Premium Program)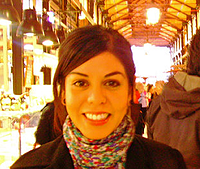 "To achieve my goal of getting into the Interpreters Program at BU, I chose English and Culture lessons to prepare for my test. After two months of personalized, comfortable and flexible scheduled meetings, I was accepted and it has much to do with Lindsay's help, who's very professional and positive.
I moved to Boston two years ago with the clear objective of improving my English and applying for a degree. I contacted Lindsay from English and Culture and she did for me in two months what the other English schools didn't do in over a year: corrected my grammatical issues and improved my pronunciation.
After two months of taking one to one lessons 3 times per week, I took the test for the Interpreters Program at BU and I was accepted. I'm achieving my goal and feel more fluent and confident about my English."
Cynthia, Mexico (Premium Program)
"Today is my last day of course. Just wanted to thank you for such a nice training session. I really appreciate your free sessions.  I really learn a lot from Justin. And enjoyed his training. Your cultural sessions was really good and I make sure I will keep all that things in mind. Once again thank you very much."
Monica, India (Premium Program)
"The classes in New York were very personalized. My goal was to understand the American culture from a teacher who was born and raised here and truly understands how to communicate her culture to people with different backgrounds. My teacher designed the curriculum accordingly and offered me plenty of valuable insight. Also, she taught me lots of useful phrases and corrected many mistakes in my English speaking. I do recommend lessons with English and Culture!"
Gracie, China (Premium Program)
"My tutor has been great, fully understanding my fear, my skill and my behavior.
Classes one to one have given me more confidence in myself. Every time, I read a new article in a local newspaper, improved my pronunciation and listened to some movies or songs.
Also, I loved the Skype lessons."
Chiara, Italy (Premium Program)

"The classes with my tutor in Boston helped me to improve my pronunciation, listening, reading and writing skills. In addition to that, I increased my TOEFL score. I learned reading and listening strategies and how to find the correct answer without losing time on the test. It was really helpful."
Majdah, Saudi Arabia (Premium Program)
"My tutor understands well the difficulties of students who learn English as a second language. She gave me an achievable goal of learning English and gave me confidence. In tutoring, I had opportunities to correct my English pronunciation and to study English grammar. She also has a good attitude to the American society, so I had chances to know American culture. I certainly appreciate her teaching me."
Hasang, Korea (Premium Program)
"I've been impressed with my teacher's capabilities and her student- oriented approach. I have learned a lot not only from class conversation but also from her corrections during the classes. She is willing to correct my mistakes on the spot, helping me to not repeat the same mistakes anymore. There are a number of so-called English teachers in New York, but it's hard to find one who is really enthusiastic about teaching and understands how non-native speakers feel about their English. In that sense, I was lucky to find English and Culture. I will definitely take classes again if I am back in New York in the future."  View Kyungup's success story
Kyungup, South Korea (Premium Program)
"For a long time I couldn't find a good English teacher. After trying several teachers I found English and Culture. From the first lesson, my teacher was able to see my weaknesses and strengths and was able to build the lessons according to my needs. Before each lesson she sent me an article which we discussed. It helped me not only improve my vocabulary but also my grammar. The way she explained the grammar and vocabulary has allowed me to learn twice as fast. I also learned how and when to use many phrasal verbs. My teacher was very patient while correcting my mistakes. My teacher gave me the courage and confidence to believe that one day I will be able to speak English fluently."
Radka, Czech Republic (Premium Program)
"I have been learning English at English and Culture Tutoring in Boston for three months. It is really helpful for me to improve my second language, specifically in pronunciation, grammar and communication. Based on that, I would like to continue learning with my tutor."
Gonxiong Wu, China (Premium Program)

"When I came to New York, I had a good level of English but wanted to improve my business English in a short time. Lindsay was a very professional teacher and taught me a lot of important terms and definitions and also helped me to improve my grammar and pronunciation, which now helps me with my international work, back in Germany. The lessons with English and Culture were great and I learned a lot. "
Stefanie, Germany (Premium Program)
"My teacher, Lindsay, was great. She was very professional and well prepared for each of our activities. I have learned a lot about grammar and I am most impressed by her ability to correct my pronunciation mistakes. She also has a wonderful personality and is very easy to communicate with. I highly recommend Lindsay at English and Culture to any ESL student"
Ying, China (Premium Program)

"I found English and Culture last year when I was looking for English classes. Since then I have really enjoyed the lessons. My teacher is very professional and she has the experience to explain grammar and vocabulary. At the same time, she is very flexible and she can adapt herself to my specific needs. I really appreciate when she corrects me and especially when she puts an emphasis on my pronunciation. I'm a teacher during the week but I love to be a student once a week when I have my English lesson"
Ana, Chile (Premium Program)
"I would like to thank Lindsay at English and Culture for the lessons. I have gained confidence in my speaking ability and motivation to continue learning when I go back to France. The lessons were great and efficient and I really enjoyed learning."
Marc, France (Premium Program)
"My teacher is excellent and the instruction has been very enjoyable. She adapted to my learning style and found a way to teach that was suitable for me, based on my personal experience and background.
She is also flexible, both in terms of time and subject matter so you can be sure to focus on exactly what you need at the moment. Although my schedule in New York was busy, I was looking forward to the lesson each day because it's interesting and she is very well prepared. She is also a very nice person and I think the lessons are great for every English language learner."  View Hiro's success story
Hiro, Japan (Premium Program)
"I took private lessons with English and Culture because I needed a flexible study schedule and it worked out very well. I had more fun and learned more than in a conventional English class. My teacher was very professional and personalized the classes. We discussed current cultural topics which helped me to improve my English and to understand US culture and society. She also helped me to edit my professional business materials such as letters, flyers and ads, which have allowed me to make contacts with US companies. The lessons were very valuable for me and I will continue if I come back to New York City in the future"
Daniel, Germany (Premium Program)
"I enjoyed very much the classes that I had with English and Culture. My teacher showed me some phrasal verbs and how to use them. The classes are flexible and you can reach your goals because the teacher prepares them especially for you"
Adriana, Brazil (Premium Program)
"I have not been interested in English in the past. However, I came to the US and I took English lessons to work in my new office. I started my lessons at English and Culture this June and have had lessons twice a week since then. The lessons give me confidence speaking English. I can enjoy speaking English now. Our lessons also include writing and reading and my teacher concentrates on correcting my pronunciation, which helps me to pronounce fluently. I look forward to the next lesson!"
Myoungjin, South Korea (Premium Program)
"I have been studying for one month, four or five days per week with an intensive course through English and Culture. During this time, I have improved the most with my English compared with any of my previous classes. I have forgotten my shyness while speaking English. The classes have been in a relaxed atmosphere and very focused on my needs, which has been the best way for me to learn and express myself. I consider English and Culture to be the best option to improve in English. It is very sad for me not to take more classes. I would like to take my teacher with me to Spain!" View Patricia's success story
Patricia, Spain (Premium Program)
" My teacher is passionate and has a lot of experience teaching foreign students. She gives me confidence in my English. I really appreciate her as my teacher. It is not easy to study by myself, so she is helping me reach my goals faster. She is helping me with my speaking, listening and writing and she is very professional"
Yoobin, South Korea (Premium Program)
"While I was on vacation in New York, I took classes twice per week for three weeks with English and Culture. In the class, I learned many phrasal verbs that were important to improve my vocabulary. Also, in every class we talked about an interesting article, these articles were the basis of our conversation practice. It was a good experience because the classes were prepared especially for my needs and focused on my goals"
Silvana, Brazil (Premium Program)
"I enjoyed the classes with English and Culture and feel that they have helped me to improve my understanding of phrases and grammar. I really liked the style of teaching which is very appropriate for my needs. I will recommend English and Culture to my friends and family who need to improve their English. Besides the teaching technique, my teacher had a very pleasant personality which made the class very unique"
Sayeeda, India (Premium Program)